Sol Guy's For Real - Exclusive Interview

Source: Dawn Langfield, Langfield Entertainment

Sol Guy - social activist, entrepreneur, television producer and host, music manager, father … the list goes on

and on. You would think that these moves were done consecutively or in a particular order and with specific purpose. No, they are done in conjunction with each other. And it didn't come easy.

Art Culture Change –Sol's mantra and it's not just talk - he is living proof of the interaction and intertwining of these three. Here we talk about transitioning from music executive to managing Somali-Canadian rapper K'naan and their World Cup experience, his role as founder of the television series 4Real and bridging the gap between social activism and entertainment.

Sol, reading your resume alone is an inspiring tale of how one changed life affects change in the lives of others. Do you remember the moment that you knew your life would be changed forever, that day in Sierra Leone (1995?)?
In hindsight, you would like to think that in that moment, you made this decision to make a difference or to change your life. But I think that that is a bit pretentious in that when you come to those types of decisions, when you actually make the decision to make a change, you've probably wrestled with it for a long time. And there are certain factors that have contributed to manifest that change. The biggest step is the final step when you do make the call, or wash your hands of something or you make a move in your life. I can definitely nail contributing factors to what got me took me off the path I was going on.
The two that stick out, in the course of a couple of years, was the death of my father and then my first trip to Africa,

where I went to Ghana, the Ivory Coast and Sierra Leone. Both life changing, and both representing life and death and both allowing me to examine life. Death, especially of a parent, puts quite a mirror up. You start thinking of values. A similar thing happened in Africa. It just pulled a huge layer back of what the world is and what people deal with in the world. And it made me start the question the idea of wealth and what wealth is measured by – whether dollars or heart – it brought up all these questions.
It connected directly back to who my father is and to my Mom, stepmom, my sisters and my family and my roots and how I was raised. How a couple of Americans living in the woods in B.C. and raising these mixed kids in a small town. And why they were there and what decisions they made to live an alternative lifestyle. In turn, they gave me a different way to look at the world. So all those contributing factors along the way.
Were your parents ever involved in social activism?
Yes, my Mom was always fundraising in the community. My parents met in D.C. in the late 60's and it must have been an interesting time when being a social activist was avant-garde. In comparison if the pimp-gangsta image is what makes you cool as a young person today, which is mostly about attracting women, being the cool guy, having friends and being admired, in turn, in Malcolm X and Martin Luther King's heyday, the guy in the sharp suit with a stack of books at the café talking about what he learned in Africa, was that guy.
My point is that my parents lived in a time where it was part of what you had to do – a social movement globally.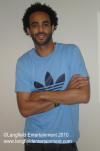 My Mom is Jewish from upstate New York and my father is Black American from the Deep South and they started living on the fringe – they became hippies. Then they carried that on to moving out of America because they were fed up with it and split to Canada - Halifax and hitchhiked across Canada in the early 70's. Imagine a 6' 4" Black man in Canada … he said some people in the middle of Canada hadn't even seen a Black person before. They ended up on Vancouver Island in a hippie commune, which was run by a folk singer Valdy, who I still see sometimes. Then they moved to the interior.
My Mom was always fundraising – Families for Children, an organization to help children around the world. She would do toy drives and her and her friends would do Kids Help Kids Day. The whole community would get involved and ship a trainload of goods to a small community in South America that was in need. So that was my Mom.
I think more than anything they were the kind of people who encouraged us to find out for ourselves. They said 'here's the facts and here's the information … you decide'.
How would you best describe your television series 4Real to someone who hadn't heard of it?
4Real takes celebrity guests around the world to connect with young people who, under extreme circumstances, are doing phenomenal things to change their communities. In order to get the television series going, it took me a couple of years.
[Note: Celebrities and locations they visited include (but not limited to): Eva Mendes - Vancouver; Casey Affleck – Oklahoma; Cameron Diaz – Peru; K'naan - Kenya's Kibera; M.I.A. – Liberia; Mos Def – Rio, Brazil; Joaquin Phoenix - Amazon Rainforest. www.4real.com]
I've watched almost all the episodes. What strikes me is the affect it has on the group. You see moments, to quote Oprah, the 'ah ha' moment.
Any success of that show and all the beautiful things that have manifested from it, are really a testament to those young people and the unbelievable work they are doing. One of the things that I'm most proud of is that we were able to travel there, even with these big celebrities in a very similar fashion that we researched and discovered these people. The idea that if we could just bring people (the celebrity brings the audience) then we could mirror our experience. To be very honest, the first time I went to the Amazon with Tashka Yawanawa – if that had just been for me and I lived with that for the rest of my life, it would have been more than satisfying – it's enough. But he was such an unbelievable guy that I felt like I was doing the world an injustice if I didn't, in some way, tell the story because I knew how.
You mentioned you those 'ah ha' moments. We had a small crew of really good people and brought a skill in their own right – the celebrity was the same as the soundman. It was a cool comradery. We didn't have hair and makeup and every celebrity would only be allowed one guest so that you couldn't bring a whole entourage with you. If we could facilitate the celebrity – first class if it was available, or a great hotel – great. However, if we were in the mountains, you'd stay in a tent with everybody else. I think that created an environment for that show to be successful.
In addition, we didn't reshoot anything – we shot what was there. My sister, Shoshona, who produced and directed many of the episodes, helped us understand the structure that we needed. But in our ideal world, we didn't want structure. She took a step away from complete structure, we stepped away from no structure, and there was something there in the middle. And we had a good team so it worked.
How did you get from that moment to leaving the music business and moving towards a life dedicated to social and global change through entertainment?
Two things - my upbringing and my cultural entry point was hip hop. My upbringing was in this hippie movement, second-generation kid, mixed kid, doesn't quite fit in, trying to find identity.
And then I found hip hop - I got some records because my stepfather was listening to the CBC (!), this new music, maybe mid-80s. He thought they were cool so he ordered the records for me. Africa Bambaataa and Planet Rock and also Grandmaster Flash and the Message. It blew my mind! I started going to the store in Grand Forks, North Dakota where all they had was Def Leppard, the Scorpions and AC/DC. So here I come, 'Can you order me Run DMC, Tougher than Leather'. The response was 'That's rap!' I'd end up arguing with the guy to order it for me. It was finding identity.
My first concert was Ice-T at the Commodore when I was in Vancouver when I was 16. I was completely

blown away and in love with hip hop. And then I found Public Enemy records – the pinpoint of when I was falling in love with hip hop – there was a through line of social activism. It was revolutionary music. NWA's F**k the Police was as revolutionary as it comes … gangsta rap has become a whole other thing now but those guys had their finger on the pulse.
I had that lens. When I was with the Rascalz and things started happening for us, we had that expression within what we were doing. We could make party records, fun records, or "I'm the best rapper" record. But we were also inspired by those records. I got to this place in the music industry that I was becoming disillusioned with my role in it and what people were doing and the direction that not only the music was going in but also in being in charge of spreading that message around the world, that's when I started to say, 'this can't really work for me'.
The short answer is that that was always a part of me. It was the way I was raised, it was the way I was raised on hip hop and it took my own dissatisfaction with the direction of the overall industry and my role in it by default of who I had become as a young executive, for me to make a decision that I wanted to do something differently . I don't think that I ever was not an activist per se until my actions defined me as one. But I think we were always trying to call out the wrong thing.
When I got to a point personally decided I didn't want to be managing the artists I was managing anymore (which is not a reflection of them, their art or their creativity). I'm a heart person and my passion was gone so I needed to find something else. When I let it all go, I'd love to sit here and tell you I knew exactly what I was going to do but I didn't know.
The 4Real idea was in the atmosphere … but really I was just sitting in an apartment on Seaton Street. No one could figure it out. Why would Sol who had all this success then made the almost impossible jump to Arista Records in New York, working with Puffy, Wu Tang Clan and Biggie, and managing Kardi and the Rascalz and k-os … is it true that he gave the company away? That he said take it all?
The real story is that's what happened. Because I wanted so much to be free of it, and in hindsight I don't even know if I handled it well. I love all those guys and we're all still friends. I just knew that I didn't want anything. Someone said very interesting to me once and I took it to heart, they said "You don't necessarily know when it's on, but you sure as hell know when something's off." And when it's off, you've got to make a change.
How would you enlighten someone like me that has never been very involved in social works globally but wants to help? What is it, in your opinion, that ignites action in someone's heart?
I don't think I necessarily want anyone to envision my passion. I'm hopeful that my actions and who I am as a person could spark a person's passion. Someone said once that the best thing that you can do for the planet is to find your passion and live it to the fullest and be the best person you can be.
There's no difference whether we're over here making tunes and movies or TV, that's our lane. Just as relevant is the construction who does sports camps on the weekends and coaches the baseball team with the kids and fires those kids up and gives back to the community in that way. It's all relative and it's all relevant and reflective to you and what you're doing on a day-to-day basis. What I would hope is that if I am a representation of that and if they find inspiration in it then they would dust off their passion if they're not as in tune with it. Because we all have something that we love and if you can do what you love on a daily basis, you are very fortunate.
You're a living example of not only it driving your passion and living a fulfilled life, it's also been successful which I believe the two cannot help but go together if you let it. Perhaps that wouldn't have happened if you didn't have those days where people thought you'd lost your mind.
When I think back on it now, I don't know how stable I was in those days! I was questioning everything, I didn't want anything to do with it (the music business). I met this young Somali kid named K'naan in those days. My whole first year of becoming friends and hanging out with K'naan and when things started to happen for him, I'd be saying 'if I was in the music industry still, I'd go to that studio and do a track with them or this publishing deal? I would change this this and this … but I'm not in it'. I had vowed to never do it again when I met K'naan. But things happen.
How did K'Naan's song 'Wavin' the Flag' become the Coca Cola-sponsored anthem for the World Cup?
It was an interesting and long process … by the time we finished the campaign it was an 18-month process. When one of these massive brands needs a song, they put a brief out to all their agencies around the world. We first heard about it from William Morris, our booking agent. The idea was World Cup 2010 – Coca Cola's biggest campaign, big music driver in it, release your African rhythm, it's about celebration. They give you a bit of a theme, which was a 'twist and shout' melody. They probably got about 40-50 demos from a lot of people. First of all, World Cup in South Africa is very interesting to us because of who K'naan is as an African man and the bridge that he walks between both worlds. But we weren't so convinced on the creative brief. Immediately though we thought about the song that we had, Wavin' Flag, and the sentiment of it. The album version is almost like a ballad, a real coming-of-age story and personal story of K'naan's. It definitely wasn't this celebratory tune that the World Cup would need. K'naan had written that song a long time ago and I knew it was a special song as soon as I heard it. What we managed to do was to get some of the decision-makers at Coca Cola to come to a show. So they saw K'naan perform at SXSW. They really dug and then we started to dialogue and it was around Wavin' Flag and they dug K'naan as an artist and person and the story. They wanted something real and tangible. So we worked on a new version on the song for them so we went into the studio with Phil and Bruno in LA. Then we did the deal and the plan rolled out. It was probably about 6 months before the deal was done. Then they laid out the massive plan with the World Cup Trophy Tour. The big thing about this one was that they were going to hit every African country which was amazing. There ended up being 22 versions of the song. Spanish version, Thai version and one of my favourite versions is Nancy Arjam from Egypt (see here), and there's China, there's Japan and we did them all with big pop stars. So 22 versions of the song ends up going to #1 in 18 countries, has this success and becomes the unofficial anthem for the World Cup. We kind of snuck in the door and stole the thunder with that one.
What was the highlight personally of the World Cup experience? professionally?
There were a couple. Getting to go to 23 African countries in 28 days and the craziness of it but the diversity of that continent and the depth of the people and the different cultures and the languages – it's unbelievable. 40-minute plane ride and you were in a different world. That continent is one of the richest places on earth – from that fact that it provides the world with 50% of its resources to this day and that there is so much history there. It was amazing to get schooled and be received so well. It was amazing to see K'naan's homecoming and what the continent at the World Cup, how he was received and how they treated him. From a guy driving a taxi to big businessmen. Patrice Motsepe, one of the richest men in Africa or people at the Mandela gala fundraiser we attended, or the people that worked 16 years to bring the World Cup to South Africa and the words they had for K'naan and what we were doing. The collective pride, the kids in Soweto singing for K'naan. Phenomenal!
The second thing was to attend some of those games. And to personally witness the power of sport and how it brings people together in a unique space and 90,000 people cheering for something. Sports and music are the two things that bring people together across all these barriers, culture and social and political. All of that was really inspiring to me.
But bar none, we met Nelson Mandela. I don't even have nothing to say … we met Nelson Mandela. That was the highlight of the entire thing. We got a special invite to his home and spent a little time. Arguably one of the greatest if not the greatest human beings on the planet. A phenomenal man that we can all aspire to be like. The beauty of meeting him was that it reminds you that there are great people all over the world doing great things.
He's a testament to it at the highest level but we all know somebody that has a bit of his spirit. There's people all over Toronto we walk by every day - we don't know their story. It gave you that human pride. It gave you hope in humanity, you know? If there's such a thing as meeting a king, I met a king. Unbelievable!
What's next for 4Real? What's next for K'Naan?
Now that we've got all this access to things and things are really starting to come to fruition in the way that we envisioned them, I'm proud to say almost 10 years ago. Me and K'naan dreaming up these ideas on Seaton Street. More music and tours for K'naan. There's a documentary we're finishing about poetry and K'naan's family in Somalia. There's a feature film that K'naan and I have been working on for years. All that stuff will be rolling out.
There's more programming and ideas around the 4Real space. Me personally, I'm very interested in feature films. I just made a move to LA and I'm interested in getting involved in that world in a bunch of different ways.
There's lots of stories to tell.
That's right. I did documentaries but at the end of the day you're beholden by the truth. When you start doing features, you can twist it up! So I'm excited to get into that world. We are a very small percentage of people who get the privilege to access mainstream media. I used to pass judgment on people who just did it for doing its sake and didn't have something in it. I don't do that anymore.
But whatever I will do, there will always be something in the middle of it. And it will be as cool, relevant, creative and as tangible as the next things that sits right beside it. I don't expect you to dig what we like because it's the right thing; I want you to like it because the song sounds great, because it's a great film, because it's an engaging television show. I guarantee you that you'll walk somewhere at some point and it will jump back in your head and it might make you go hmmmm. And that's enough for me.
Would you say that you're living a fulfilled life?
I'm one of the luckiest guys on the planet. I've got two amazing, healthy children. I travel the world. No one calls me to wake me up in the morning. I wake up ready to go and I do something that I love. I get a chance to be with all sorts of different people and get inspired. I'm very fortunate and now that the work is starting to pay us – which is kind of cool too – that one takes a long time, more than people would perceive – we've put so much into it and for it to start to balance itself out is great. I'm just very fortunate. We couldn't have imagined all the things that would combine to get us here. But what we did do, very clearly, we saw the path and we stuck to it. That's the thing that I'm most proud of – that we did not compromise.
We've always had enough and had enough to get by. Literally thousands of people have contributed along the way to everything that we're doing. Some of them dedicating years of their lives and other people in a hello, a phone call or opening a door. Or an idea, a laugh or a smile. None of this is us on our own. We just happen to be in this position that we're in.
It's a great thing to be around a group of guys that continuously challenge each other as well. So life is good.