Mark "Kurupt" Stoddart: Visual Communicator

Source: Dawn Langfield, Langfield Entertainment

Mark Stoddart – very closely synonymous with a renaissance man. I sought him out because of one of his

latest works – the tee shirt you may have come across on Facebook. The same tee shirt that many prolific and talented Canadian artists and industry folks have been photographed wearing. What was this about? What's the 'movement' behind it? Seemed simple enough to me but what I uncovered after witnessing a photo shoot and the plethora of artists coming through his doors to get involved, was a story about a man giving back to his community.
Some of you have known about Mark Stoddart, also known as "Kurupt", for years. This talented visual artist has many accomplishments behind his name, has worked tirelessly to give back to community, has impacted lives and discusses here his story and the motivation that propels him forward.
Mark's life took a dramatic turn in 2005 when his friend, Shawn "Blu" Rose, died suddenly. Blu was a cherished youth worker in Scarborough's Malvern neighbourhood. His work was valued so extensively within the community that Malvern renamed a park, formerly called Empringham Park, to Shawn "Blu" Rose Park in his honour.
Mark has played international professional basketball (and now coaches), had a career as a talented and

successful graphic designer (and now mentors), and today is a visual communicator through his art as a social and political activist.
What is the origin of your name "Kurupt"?
Wow - high school in 1988-89. I had a 'conflict of interest' in dealing with one of my art teachers. I finally hit my breaking point where I said, enough is enough. I lashed out. He was looking for a reason to get me out of the school. But my Mom was NOT having it.

So, I got suspended for threatening that teacher after he called me "corrupt". My Mom was called and she told them that her "son has never been corrupt". My Mom went to bat for me. But in contrast, I had the support of Mr. Rouillard, who is one of my mentors, who liked me and was so supportive of where I wanted to go with my art. He protected me. Then I started thinking about conflict and that word 'corrupt' - and society - and how two negatives can make a positive. And that's who I am … because I'm still trying to make a positive difference.
It's interesting because that name doesn't seem to go with who you are and what you do.
Right – it's a conversational piece that I want people to understand. And that's the only reason why I use that

name. People often think I'm using the rapper's name but nah, it goes deeper than the rapper's name. I always say my Mom gave me that name and it was based off that story from school.
Further, my first business success was through the music industry - BMG, Sony, Universal, Saukrates, the Rascalz, Ghetto Concept and MuchMusic (web design). I designed all their stuff. My business name was Kurupt Designs. They'd say "oh Kurupt is doing our work". It's something that people remembered. But when you really get to know me, I'm not corrupt at all. I'm this guy that's doing something positive. It just ties in with a negative turned into a positive. That's where the name comes from. That's the first time I've told that story.
What is the root of your commitment to giving back? Is it a spiritual thing? Community-based?
It's both spiritual and community based. We need to leave something behind, a legacy of who we are. The only way is to give back so that people can follow that blueprint. I think it's essential for the kids coming up now to understand. There are plenty of avenues of success and I'm just trying to give another option so that the youth can identify with that. The only way to leave a legacy is to give back.
As a young man, you played basketball at Sheridan College in Oakville. How did you come to play professionally in the UK?
Scarborough's a small pond of people but you build a reputable name of who you are and then you go to a

bigger pond, college. I took art courses because I wanted to be an illustrator but as far as basketball, I had to earn my stripes. I had to understand my position and I learned the system but that learning curve was difficult for me. Again, just to be part of that team was something ... and then we won nationals! Two years ago, they honoured the alumni of that team in the Hall of Fame at Sheridan.
I eventually came to a crossroads where I had to ask myself, "Am I going to go pro in this? No." I went to Sheridan for art and not basketball. I told my coach that it just wasn't for me anymore and he respected my decision. Then I graduated and went to into the workforce and into the matrix of the 9-5. It just wasn't my calling.

I wanted to go to Europe (Nottingham) just to get away. I'm a citizen so the transition was easy for me. Nottingham had a basketball team and they wanted me to be part of their squad. So I played for one year but playing at the professional level wasn't for me. That led to me coming back (to Toronto) and working in graphic design.

How did you come to coach?
One of my greatest friends, Chris Smalling invited me to be an assistant coach with him at Centennial College. Chris and I grew up together from high school and he's been a good friend. Our kids were kind of unruly but I think they respected us. We ended up in a tournament against Sheridan College, my old alumni, on my birthday! And we beat them! I was ecstatic! We weren't even ranked very highs and we beat them! That was one of the best moments in my life. Everything comes full circle.
Then the Alumni Association of Sheridan asked me to come back and talk to the graduating students. I guess

because of where I am now, there was something about my journey that they wanted me to tell. I was scared as hell because I don't like public speaking - but we have to conquer our own fears. That's the first time I realized that I have a voice. I told the kids that we have the ability to create our own goals. You just have to find out what that is. [Full speech HERE.]

How did the idea of the Live It Wear It campaign come up? Why this symbol and why now?
One of the stories that most people don't know was that in the early 90's, I met

Kwame Ture also known as Stokely Carmichael. He was the person that coined the phrase 'Black Power'. He was part of Dr. King's movement and the Black Panthers. So that was where my conscientiousness was and it has never changed.

But it has been sparked again perhaps because of the election of the first Black President in the United States. I thought it was time to bring that imagery to the forefront again.
I have a theory about why I think this campaign is doing so well. Not many people know this but my friend Kwame Parker's father, Don Parker, was one of my mentors and always supported my art. He collected all the tee shirts that I used to make. He was an integral part of my life. He recently passed away and I put the first shirt of this campaign in the coffin with him. It was a respect thing and to pay homage to him for all his love and support over the years. My theory is that because I gave the shirt back to the earth with him, that it's become something special and something that people can identify with, even if they don't know why.
How did you end up linking with the mega-talented Nathaniel Anderson as your photographer for this project? The campaign is really based on those photos and the emotion they provoke. It seems to me it is both your gifts coming together to make a special campaign.

Nathaniel has been a constant. I always say this and he laughs - but I'm like a Pinto, and he makes me become the Bentley. There's some photographers out there that are well-known and doing their thing. But Nathaniel has the ability to make things come to life. He has the ability to capture someone right in the moment. I call him the time-stopper because he can stop time with his camera and capture who you are and take notice of who you are. Our mutual friend, Orla, introduced us and from then there was some sort of chemistry. We all lived in Scarborough but we never interacted or crossed paths. It's all about timing. Certain people you just know you're going to bond with.
What's the significance of 1968 on your tees?
1968 was a year for a lot of things to happen. There was a lot happening in the civil rights movement in the United States. At the Olympics in Mexico City, two American brothers won the 200 meters. Tommie Smith and John Carlos, when accepting their medals, made that gesture (puts closed fist in the air) that people embraced. It changed the course of who they were and made it an iconic symbol. Also in 1968, Dr. King was assassinated. In Canada, Lincoln Alexander because the first Black Lt. Governor. And it's also the year I was born. It was a powerful year to be born. That tells my story about what I want to do in telling stories as an artist.

[Video clip of 1968 Olympics and iconic gesture by Tommie Smith and John Carlos HERE.]

How did it come to be that you were commissioned as an artist to create paintings for Converse shoes? Was that first or was your 40@40 Collection first?
Mark's 40@40 Collection's goal was to create 40 paintings of significant black musicians and athletes before the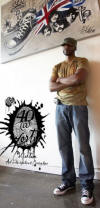 arrival of his 40th birthday in 2009. His initial paintings include jazz icons Jimi Hendrix, Dizzy Gillespie, Miles Davis, John Coltrane and Ray Charles. The sports icons in his collection include but are not limited to, Jim Brown, Bill Russell, Wilt Chamberlain, Satchel Paige, Tommy Smith and Fergie Jenkins.
In addition to the 40@40 collection, Stoddart was commissioned to create a one-of-a-kind painting for the leading footwear brand Converse, featuring their popular Chuck Taylor footwear, with images of rock icons Ozzy Osbourne, Pink Floyd and The Who integrated into the design for Converse Canada's 100th birthday.
The Converse opportunity came out of my relationship with Chris Smalling again, whose kids were in a basketball camp that I was involved with, which was sponsored by Converse. They were doing a celebration for the century. I told them my concept and they liked where I was going. I brought Nathaniel (Anderson) in to get on board too. It was also about building relationships with the right people at the right time. What I did was take the texture of the sole bottom of the shoes and allow them to be the texture of my paintings. You have to be grimy in your stuff. You have to make your own imprint even if it seems twisted and weird. Sometimes you have to go against the grain.
What do you consider your 'big break' moments? When you knew that your career as an artist was being lifted to the next level?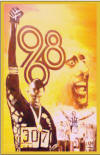 The biggest affirmation for me was going through my old sketch book from college and seeing a sketch I did of Kwame Ture. He was in Toronto doing a speaking engagement and I went and he signed my sketch book and it said "Everything for the people, even art Mark". It showed that whatever I do is still relevant and that I have a story to tell our people.
One of my major pieces is called "The Silent Gesture" and within that image, you have Tommie Smith winning the race and in the scenery you see Kwame Ture speaking. I wanted to tie that all in along with the symbol of 1968. That piece was a tribute to him and it actually put me back on my journey. As an artist, it is my duty to give back. It's great to have relationships with people that have their own way of telling stories. I'm just blessed to be that vessel that channels the energy which allows me to create these things. There's moments that stand still for me and I know that it's not just about me anymore.
What's next for Mark Stoddart?
You have to be forward thinking as a visionary, which is no small feat and leaves behinds a bright legacy. Your lifespan is short as a visionary – you're not hitting 80 or 90 years old. Your time is limited because so much is being forced out of us. It's like a burning star. I know that there's a lot more to come out before my time is up that is going to be impacting people's lives but I can't let the cat out of the bag just yet.

[In 1988, while Mark Stoddart was still in high school, he was nominated for a Harry Jerome Award for

Excellence in Arts. Come full circle, again, and in 2010, Mark is creating a painting series on the life of Canadian track and field star, activist and icon Harry Jerome for a documentary being directed by Charles Officer. From Facebook.com:

"This film is long overdue and will give people a real sense of what Harry Jerome means to Canada," says Mark Stoddart, a Toronto-based artist who has been commissioned to create a portrait of Jerome. "It is about time that all Canadians understand the impact of Harry Jerome and his iconic status as a true Canadian hero."]
What do you want people to remember you for?
A brother that is doing what he said. I just want to be a brother that is known as a giving guy that put in the work. If you have something you believe in, then stick it out. There's going to be a lot of bombs and a lot of sacrifices but believe in your craft and you will see the fruits of your labour.
Thank you to Mark and Nathaniel for their generosity of spirit, time and sharing the story.
Web Links:
www.liwi68.com
www.mstoddart.com

www.nathanielinc.com
www.facebook.com/Nathaniel.Incorporated