Denosh Interview - Back 2 Front




Denosh

Ė people know the name.
Wasnít she the former dance

captain of the Raptors? Yes.
Wasnít she one of the dancers on Aaliyahís last video? Yes.
Isnít she singing backgrounds for Justin Timberlake? Yes.
Torontoís Denosh has been around the industry for many years and has now released her debut CD - Back 2 Front which will be available digitally on Itunes.com, Rhapsody.com and other digital download sites. Her first single, ďHave FunĒ was chosen for the Universal Music Canada Honey Jam Compilation CD ďHoney Jamsí, which also features songs from Nelly Furtado, India Arie, Pussy Cat Dolls and many other high profile female artists. Her video for the song is currently in rotation on Much Music. Denosh is currently singing background with Justin Timberlake on his world tour, ĎFutureSex/LoveSoundsí.

Denosh has worked on music videos, live stage shows, recording projects and world

tours with performers such as; Debbie Allen, Mariah Carey, Whitney Houston, Missy Elliot, Janet Jackson, Alicia Keys and many more. Most recently she was one of the finalists on season three of MTVís and Diddyís ĎMaking the Bandí and made her Broadway debut in the Tony award-winning musical ĎHairspray.í No rookie here!

Denosh talked to me on Friday, August 24th, a couple of days after her Toronto CD release, from the Sutton Place Hotel about the current Justin tour, her transition from Canada to the U.S., the transition from being a dancer to being a vocalist, and much more!

Welcome home! How is it to come home after all these years and to be part of such a successful tour with Justin Timberlake?

Itís a blessing and an honour because a lot of people donít get that opportunity. They donít get the opportunity to leave and then come back. Itís a testament to what Iíve been doing and it shows people that Iíve been out there hustling. Itís really gratifying. I know that itís also encouraging to other people to be able to see me step out and to be able to see me in such a big project. A lot of my friends and family have been able to come and see the show. It feels really good and it feels like all the hard work has paid off.

How did getting the gig come about?

A friend of mine had got the call about the tour prior to me and she turned it down because she had gotten married and didnít want to

jump right on to the road. They asked her if she knew anyone that might be good for it because they didnít want to do auditions. She told them that ĎI have the perfect personí. I was in the middle of doing a Broadway play at the time (Hairspray) and I wasnít 100% happy with what I was doing. I loved the job but where I was in my life, I wanted to be somewhere else.

A couple of months prior to that, I was watching Justin on The Jay Leno Show or something and I thought if I have to work for any other artist again, thatís who I want to work for. I liked him from NíSync and I liked what he was doing. Iím not mad at him. And then I see my friend singing backgrounds for him so I called her and said that if anyone ever gets sick, you better call me! Then a couple of months later, I get the call!

Has this tour influenced the sound of your tracks on your CD?

Most of my CD was recorded before I started touring. I did do two new tracks Ė one was the intro and the second song ďGet Used to ItĒ. I knew that I would be obligated for such a long time

on the tour and I didnít know when I would be able to sit down in the studio and do a full studio album. In the meantime, I wanted to get some product out there and try to establish a fan base and expand on the fan base that I already have. I just wanted to do a taste of what Iíve been up to and whatís to come. So, Iíve added those two tracks.

And the energy of Justinís record Ė the dance energy Ė inspired me and thatís why one of the songs is an up-tempo one, heavy with synths just to freshen it up.

Who are your producers and how did they come to work on this project?

There are two producers on the album. One is Charles ďPheenomĒ

Wilson III and the other producer is Bernard Edwards, Jr. and he goes by ďFocusĒ. Focus I have known for some years now and I met him when I was dancing background for Brandy. He was her musical director. I knew that he was a musician but not a producer. At the time, I was interested in transitioning to background singing from dancing. I felt that people would take me more seriously as an artist. So, he did a demo for me and we worked together on various projects. Pheenom I met because heís Justin Timberlakeís keyboard player. I met him on the Justified tour in 2003. I didnít know he was a producer either but throughout the years he would do some music and I would write and weíve collaborated on a few projects. Heís been the main producer that Iíve been working with but when I decided to put all the songs together, I felt that these two producers were the ones closest to each other and closest to me in terms of sound and they compliment each other. I wanted there to be some sort of theme and continuity.

Youíre in a unique position that many Canadian artists wish they were in Ė a Canadian making their mark in the American music industry. What challenges does this offer?

Yes, there are definitely challenges. One was just proving myself to my American peers. They are leery of anyone thatís not American. In some situations, they didnít know and they would say, ďYouíre from Canada? You sing like us and dance like us.Ē And I would say that itís really not that deep. Once I got my foot in the door, it wasnít so hard. One of the challenges was getting the work Visas. But I think that the biggest challenge is just being the newcomer.

When I first moved, people said Ďoh you deserted usí. I couldnít do anything about it. I did a lot in Toronto before I left and at that time, I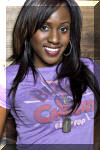 had exhausted all of my options as far as participating in the arts and making a legitimate career out of it. There are things that I needed to do and needed to accomplish that were not available to me here. But I never ever left Canada behind. I always have been back and forth and maintained relationships here. My family is still here. I got a lot of flack for pursing a career in the States as a performer. But the industry grew and a lot of Americans were coming to Canada to shoot movies and videos.

Now I feel like people are looking for their way in. Iíve always been one to help, suggest and advise but itís interesting that some of the people who werenít so supportive then are now looking for a way in. They see now that I have longevity and see the growth. Itís bittersweet because itís nice to be appreciated and to be able to come back but at the same time, there are those people that do hate on me because they never had the outlet or they never took the chance. Iíve always encouraged my friends and said that itís there for you, you just have to want it and go after it.

What has been one of the highlights in your musical career so far?

One of the highlights of my musical career was when I made the

transition professionally from background dancer to background singer. I was working for one of my mentors, Faith Evans, as a dancer, and one day on the tour bus she heard me singing to myself. She asked me for a demo of my music, and after she heard it, she told me she was going to make sure I was on the mic singing with her as soon as possible. A month later, a spot opened up on her team of vocalists, and she hired me to sing for her. I never looked back!

What pieces of advice would you give to an artist that wants to enter the business?

First, I would say to make sure that being in this business is what you want to do. Even if you donít know how long you want to do it, make sure at that moment, itís all that you want. Second, I would encourage them to educate and prepare themselves as much as possible on the business side of things as well as their craft. And last, but not least, I would encourage them to never give up, no matter how far away their achievements may seem. Sometimes it just a test to see how badly you want something, and sometimes the closer you get to realizing your dreams, the harder things becomeÖ

What would you say is the unique contribution of Canadian urban music globally? Is there something you hear outside of Canada about our music?

Well I would definitely say there is a global presence of Canadian music. The good thing about is that weíre so diverse in nature, and people canít really say ďthat sounds CanadianĒ. Uniquely, I feel like as Canadians, we just do what is natural to us, we donít try to fit into any mold musically. Weíve got rock, alternative, Pop, R&B, soul, and everything in between. The funniest thing is that people expect Canadians to be less talented or something, and are so surprised that some of their favourite artists or top selling artists are Canadian.

Who are some of your favourite Canadian artists?

Sarah McLaughlan, Nickleback, Celine Dion, kos, Tamia, Avril Lavigne, Divine Brown.

Who are some of your influences Ė not just musically but anyoneís whoís made their mark for you?

My mother, my sister, Bob Marley, Debbie Allen, Michael Jackson, Janet Jackson, Whitney Houston.

What direction would you like to see your career head?

In the near future, Iíd like to tour, maybe open up for some artists, headline my own tour. Iím also a songwriter, so I plan to write and produce for other artists and projects real soonÖ.there is so much to be done in this business, and I want a piece of it all!

If you could work with any artist, living or past, who would it be?

I would love to work with Bob Marley, Stevie Wonder, Nina Simone and Iíd love to work with Timbaland. I think that as far as todayís producers, his longevity, his creativity, the way that heís flipped it Ė heís ridiculous.

What do you want people to remember you by?

I want them to feel like I gave them something. Iíd want to feel that if they heard me sing, they got something from the pain in my voice, or the tone of my voice Ė that they got want they wanted. Whether they wanted to be cheered up or whether they wanted to connect because they liked the song. I want them to feel fulfilled. Denosh is that type of person that no matter what song she is singing, that you always get something from her. Also that they see the struggle or the hard work and they see that itís not just fluff and that they appreciate the story. I want to be able to encourage people from my walk and what Iíve done. I want them to feel inspired to be able to do whatever it is they want to do.

So, whatís in your iPod player right now?

Amy Winehouse, Al Green, Beyonce, DíAngelo, Fred Hammond, Jay Moss, Kim Burrell, will.i.am, Justin Timberlake, Timbalandís new CD, Sarah Vaughan, Janet Jackson, Ludacris, Pat Matheny, Linkiní Park, NeYo, Ė so a little bit of everything. I feel that you have to have a little bit of everything because you never know how youíre going to feel. Some music is workout music, some is to get my mind right, getting dressed music, unwinding music. I have my album in there too.

Do you have any message for your Canadian fan base?

This might sound corny but if you want something, you have to believe in yourself. You have to want it and have to believe that you deserve it and that you can have it. When I was young, I didnít know how anything was going to happen for me. Always follow your heart and your dreams because at the end of the day, you want to be happy and to able to look at yourself in the mirror and say, ďI did the best I could and I gave it all I had.Ē I know it sounds corny but itís really been all that Iíve ever lived by. Iím still realizing more and more dreams every day. A lot of dreams Iíve had, found themselves to me in a different way Ė ways that I thought that I would get this dream, came to me in a different way and in a different time. Itís very easy to lose faith and lose focus but right when you feel like youíre going to give up, push that extra mile.

Look out for Denosh - keep your eyes and ears open Ė she definitely will be filling the airwaves and stages soon Ė a determined and talented force that will not be quieted anytime soon.



Many thanks to Denosh and taking the time for our interview and to Elaine Quan, her publicist, for setting it up. For photos from Denosh's performance in Toronto in January as well as her recent CD release, go to my PHOTO GALLERY.

For more information and updates on Denosh, check out www.myspace.com/denoshkb