Interview with Darrin Henson, Choreographer/ Actor/ Dancer

I ran into Darrin Henson while covering the Cayman Jazz

Festival in November 2006 in his role as the host of the festival. Darrin is now starring and dancing in the Sony/Screen Gems film, Stomp The Yard which released on Friday, January 12, 2007. As mentioned in my review of Stomp The Yard last week, Darrin Henson is well-known to Canadians, as he shot the television series Soul Food (as the character, Lem) in Toronto and therefore lived here for five years. Though Soul Food never aired in Canada, Darrin was a vibrant part of our community during that time.

There are a couple of notable things about Stomp that I

thought it was necessary to bring to light. One is that in celebration of the film's release, Sony Pictures announced that 2.5% of the proceeds from its opening weekend numbers would be donated to the Martin Luther King Jr. Memorial in Washington, DC. For me, it was also a positive move to see the Black youth experience played out in the world of fraternities and a university rather than in the Hollywood stereotypical world of gangs and drugs.
Darrin talks to us about Stomp, the role of dance in Hollywood, his accomplishments and upcoming projects.
First of all, I loved the movie Stomp The Yard Ė very entertaining i.e. lots of dance scenes and decent acting. Did you have anything to do with the choreography?

None of it except that the battle scene. The last one was my choreography. All the stuff that you see me do by myself is my stuff.
Did you grow up with stepping around you?
Iíve never stepped before Ė that was my first time. Itís one of the hardest things Iíve ever done. Itís like drumming, keeping two different patterns at the same time. That s**t is hard!
What was your favourite part of the film for you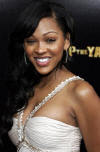 ?
Kissing Meagan Good!
Your characterís intensity really came across Ė no one liked you!
My character was based off her (Meagan Good)ís dad. He was the mano y mano male. Heís one of those guys who expects excellence out of himself and everyone else around him. There are a lot of people out there like that.
How important do you see dance in relation to the world of entertainment?
I think dance has always been acknowledged and itís always been needed and necessary. Itís more, is it respected?
I think the importance of it is coming back again. Stomp brings the art of street dance and the traditional art of dancing back.
I agree and because itís making a lot more money for mainstream now Ė it is the actual money-maker. I think literally that dance has found its own rhythm now.
And do you feel a trend of movies putting more choreography into their movies and/or music videos? Will your phone start ringing?
I think that itís going to be a huge trend. Once youíve got a hit in Hollywood, they normally follow up with five more of the same kind of film. Thatís the way it is and has been. I think that Iíll have a rush of people calling and wanting my involvement in projects, absolutely.
Your career skyrocketed after Soul Food - whatís the biggest adjustment youíve had to make?
Soul Food was the very first thing that Iíve done thatís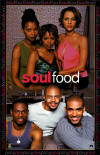 introduced me to the world outside of my choreography. I think one of the biggest things is that you have to be able not to take it home with you. Sometimes the fans donít allow you to do that because they love your character so much that they call you by your characterís name. Sometimes if youíre weak-minded, you feel inadequate if youíre not getting or booking another job immediately. You really have to know who you are, what youíre doing and what you want out of this business in order to do well in this business Ö and survive this business.
I use the term Ďsurviveí very loosely because I donít believe in just surviving, I believe in living. When youíre able to live your making, you donít have to worry about making a living.
Do people still approach you about being Lem?
Yeah, they call me Lem all the time. I donít mind so much because I really love my character so itís fine but sometimes, depending on what day it is, you want people to call you by your name.
Do you have a favourite experience of when you were working here in Toronto?
Working on a television series and then acclimating myself into the Canadian community and being accepted by them. Doing the show for five years there and it being accepted all around the world is still an ongoing great experience for me.
People that know you as an actor, may not necessarily know that you have dance / hip hop workout videos out?
Originally, by the third season of Soul Food, people were

tripping because theyíd always see me with NSync but they didnít understand why one of their favourite actors was always with these guys. I think they were completely confused and didnít know I was the same person. I guess they started to read the same name and thatís when they found out.
What first made you fall in love with dance?
From five years old, I was in love. It was just something that I knew, something I was born with. When I heard music, I just danced. It wasnít something that I had to think about wanting to do. I knew I would be on stage one day, absolutely. At five years old I knew!
Youíve worked with some major names in music

Michael Jackson, Prince, Britney Spears, J-Lo, Christina Aguilera, NSYNC Ė any highlights?
Working with Michael Jackson was a highlight. Winning the MTV Music Award was a highlight (for N*SYNC) and now dancing in a feature film that Iím starring in Ė itís great! I feel like John Travolta except I won an award for dancing! (laughs)
What do your awards mean to you as youíve won an MTV Music Award for Best Choreography and a Billboard Award for biggest selling Health and Fitness Video?
They mean a lot to me Ė itís from your peers and your fans. I mean, I donít go around shining my MTV Music Award everyday; actually itís in the garage. Because I feel if you sit down looking at it, praising yourself, you may not work hard to get another one. I want to work on getting an Image Award, a Golden Globe and then an Oscar. I plan on it!
Congrats on breaking records with the sales of the Darrinís Dance Grooves! Where can people buy it?
Yeah, and I just did a deal for the second one (Darrinís

Dance Grooves 2) which is available now on my website Ė www.darrinhenson.com but it will be in stores in March. And people can buy it on my site.
Why do you think that itís generated so much interest?
I think people trust me and the choreography is great!
If you could work with any artist, living or past, who would they be?
Iíd want to work with Michael Jackson again. I would have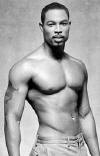 loved, God rest his soul, to work with Gregory Hines. He was definitely a mentor for me. I want to work with Shaba-Doo from the movie ďBreakiníĒ. Iíd want to work with Eddie Murphy, Denzel Washington, Laurence Fishburne and John Travolta.
What was your greatest experience in your career?
Definitely working with Michael Jackson. And finally dancing in a feature film that Iím also acting in. And then winning the MTV Music Award.
Whatís in your MP3 right now?
50 Cent, india.arie, Floetry, Beyonce, Jay-Z, Black-Eyed Peas Ö
How would you like to be remembered?
Darrin Henson is a person that cares about the world, cares about people and who wants everybody to understand that they have power to make their life beautiful.
Good answer Ė no doubt.

Darrin is one busy and hard working entertainer. He is currently on the panel for the television reality show Bump & Grind in the UK on Skyís Trouble channel (airs in Canada as well). Later this month he'll be at Sundance Film Festival with Queen Latifah to support his HBO film, Life Support which is the true-life story of a mother who overcame an addiction to crack and became a positive role model and an AIDS activist in the Black community (to be

released in March 2007). Then, also being released this year in May, is the movie, The Salon, which premiered here at the ReelWorld Film Festival starring Vivica A. Fox.

And now with the release of Stomp The Yard, you can be sure to be seeing a lot more of Darrin Henson. He is a symbol of what hard work, good hustle and raw talent combined can do!