X Marks the Spot: Exclusive Interview with Director X

Source: Dawn Langfield, Langfield Entertainment

Director X joined me at Harlem's east side location (www.harlemrestaurant.com) over the holidays to have a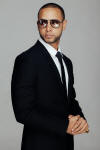 bite and discuss his long-established career. His vibe appears confident yet soft spoken with an air of down-to-earth sophistication. Before engaging in the interview, we spoke about his son, western medicine versus alternative medicine and how he witnessed first-hand the attacks of 9/11. Currently living in New York and in Toronto for the holidays, we speak today on his start in the entertainment industry and much more.
Many of you know the legacy of Director X who is lauded as one of the most successful artists to come out of Toronto. Born Julien Christian Lutz, Director X is of Trinidadian and Swiss descent, who first made his impact in the entertainment industry as a music video director under the name of 'Little X'. Celebrating the wealth of talent in Canada, Director X has worked with artists Nelly Furtado, Kardinal Offishall, Wes "Maestro" Williams, Glenn Lewis and Choclair, to name a few. Videos that you may recognize at a glance are:
Maestro - "Stick to Your Vision"

Kardinal Offishall - "Ol' Time Killin'"

Alicia Keys - "How Come You Don't Call Me"

Sean Paul - "Gimme The Light"

Aaliyah - "I Care 4 U"

Rihanna - "Pon De Replay"

Usher - "Caught Up"

Nelly Furtado feat. Timbaland - "Promiscuous"

Sean Paul feat. Keyshia Cole - "Give It Up To Me"

k-os feat. Saukrates & Nelly Furtado - "I Wish I Knew Natalie Portman"/"Robot Kid"

Nicki Minaj - "Your Love"

Karl Wolf featuring Kardinal Offishall in Ghetto Love
And the list goes on and on. [Scroll down to see assorted videos.]
Director X attributes his drive and passion to having the opportunity to first watch, listen and learn while under

Hype Williams' tutelage, an American music and film director.
Dawn: There's a lot of talent in our city – both musically and the other arts. Have you come across any Canadian artists that you feel stood out to you?
Director X: The dancers. Especially back in early 2000. I was always impressed by the dance talent in this city because that was so much more my world. If you're in front of my camera singing and dancing, you've gone through your steps to be found. But the dancers, you can find them anywhere; could be kids at a gas station. The dancing in this city is not like any other cities. There's a lot of talent up here.
Dawn: Who are some of your favourite Canadian artists?
Director X: I like Weeknd musically. He's on my radar. The Weeknd is dope.
Dawn: Do you have a preferred musical genre to work in?
Director X: Not at all. I don't care. There is definitely the world where people can accept me in as far as who's hiring. But for me, myself, no. When they're saying, 'we need a new rock video', they're not thinking 'let's get X' unless they're trying to say, 'let's do something different'. Normally though, it's like 'oh this has a hip hop feel, let's get a hip hop guy'. And Black directors, Black artists, definitely get held in that position in a way that White artists do not.
Dawn: Is that more prevalent in other areas of the world or here?
Director X: The United States especially. Here I found that commercially, I'd be up for Zellers commercials and all these kinds of jobs, where in the States, there will always be [reference to] the African-American world. Occasionally some things would come up out of it, but for the most part, their system is made like that. Like I said I would be doing stuff a lot more outside the box.
Dawn: You shoot such visually appealing work. How different is it from the director's chair to shoot a music video or a commercial or do you see it all as art?
Director X: Thank you. Commercials and music videos are different in the same way that there are similar styles of dance. You're still dancing to music, but one's a tango and one's hip hop. So, commercials are much more structured; more rules to the game. You're not executing your own idea, you're doing someone else's. So it is like doing a tango. There's a dance that the judges know and they're there to see how you execute the dance step that everyone does.

As opposed to hip hop, where there are no rules, they're there to see you do something that they've never seen before.
So music videos, the client is not as involved – it's your idea the majority of the time and even if it was a collaboration idea, it's really yours. Artistically there's a lot more freedom in a music video than a commercial, where the idea comes to you. They've been working on that idea, they've had that client for years – they signed a contract. They're doing radio and commercials and they're going to do another commercial that's coming off this one. This is a relationship.

You're kind of walking into a marriage. You're having a moment with this husband and wife and the relationship can be just as different as a husband and wife. And you've got to interact with that as it is. You're going to leave, and they're still married. It's a very very different experience.
It's what's your idea is within the structure of their idea. 'This is what we're doing, what do you want to do within this world?' It's a long process to make a commercial. By the time they come to me, they've discussed this. This ain't some new idea.
Dawn: What has been the most poignant moment in your career?
Director X: I don't know the most poignant. I think Usher's "You Got it Bad" was a big moment. Kardinal's "Ol' Time Killin'" was a big moment. Redman "I'll be Dat". Big moments meaning had a big impact. That Kardinal video had a big impact on the world. This tiny little video we did. Really shifted things around. @KardinalO
Dawn: What challenges you the most in directing?
Director X: Coming up with something original within the budgets that we now have to deal with. That's a big deal. When I started and came into the game, budgets were much bigger. I was there when budgets went from not tiny but ok, to being humungous, disgusting and crazy back down to tiny again.
Dawn: Is that a reflection of the music industry as a whole?
Director X: Music industry and economics. The music industry got smashed twice. It got smashed by the technology and then got smashed by the economy. You put those two things together … not everyone gets $200-300,000 or million dollar videos anymore.
Dawn: When did the transition from Little X to Director X happen and why?
Director X: I'm in my 30s now, I'm not a rapper. I'm not 'Little'. [laughs] Doesn't it sound better? I wish I'd called myself Director X from the very beginning but it is what it is. Little X came from a street thing, back in the hip hop/rap conscious days. But it's not that world anymore.
Dawn: Did you ever want to give up when you were on your way up?
Director X: I had a moment but that moment was the one that put me to the side of 'don't give up'. I had a really bad shoot and Hype [Williams] gave me a pep talk and a couple of other directors that I worked with as well. Hype was the one telling me that 'the feeling like you suck and that you can't do it, is the enemy. You have to fight that feeling.' After that, that was it.
Dawn: I would love to see you directing feature films – is that on your radar?
Director X: Of course. I'm a director so all the parts of being a director are there. But where I am in certain stages and what I'm dealing with, I don't really discuss that stuff. The playbook is for the team.
Dawn: So back to music, what's in your CD player right now?
Director X: Mumford & Sons, Bon Ivor, College, Mighty Sparrow. That's all the music that I was listening to today. Right now I'm on that kick – Bon Ivor and Mumford & Sons so I'll be on that kick for a minute. College I've been on that for a month or two. And the Mighty Sparrow? That could vary. That might be Jimi Hendrix tomorrow.
Dawn: If you could work with any artist (living or past), who would they be?
Director X: I would have liked to have worked with Lauryn Hill in her prime. Jimi Hendrix too.
Dawn: What do you want people to remember you for?
Director X: I haven't done anything significant enough – give me some time on that and we'll figure that one out.
Dawn: Last question. Are you happy?
Director X: Yeah. Life is good.
Thank you to Director X, his manager and Carl Cassell of Harlem for assisting in making this interview come together. For more on X and his career, go to http://directorxfilms.com.

alicia keys - how come u don't call me? by biggboy619

Usher - Caught Up by hushhush112

R.Kelly - Happy People by coolfunk

Cassie - Me And You by -CrAzY-